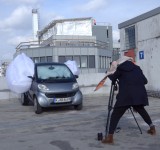 accident exercises
Rotterdam Presenta / Contact Gonzo
free entrance / reservation recommended due to popular demand: kasse@gessnerallee.ch

Before every accident, there is the loss of control. And then the impact comes, a moment of radical, irreversible change that is over before there is a chance to take a look. What would we see if we would stop time at the moment of the collision? Our mistakes, the un-sovereign action, the moment we look bad and it's too late for a new plan?
Rotterdam Presenta develops exercises whereby they try out having accidents. They observe collisions, falls, and missteps. Together with performance/visual arts group Contact Gonzo (Osaka/JP), they set up a laboratory for the culture of taking risks in and around Gessnerallee, where they think about the accident as a moment of deformation and destabilization, about the qualities of un-sovereign bodies, and the power of «suddenly….» At Judith-Gessner-Platz, in the Nordflügel, in the parking garage, and in the Halle, human bodies, fruit, and motor vehicles collide and are meticulous observed during the process.
Credits
→ Language is not a problem. → Duration: 90 minutes