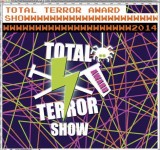 TOTAL TERROR AWARD SHOW
???????????
When lightning strikes the roof of the Gessnerallee and the flag is raised the heavy weights in their own art will be standing in the limelight. Fresh air is guaranteed in this live show of the extremes. Tickets are rare – emotions gone wild: mass hysteria! But our unbeatable masters of ceremony lead us straight through the turmoil of absolute chaos. The totally different Award Show with a slightly different focus and with different artists for a different audience... Chaotic, trashy and entertaining.
TOTAL TERROR AWARD SHOW 2014 – honours categories that no other Award Show honours. Presents a programme that no other Award Show presents. Entertains you like no other Award Show entertains you. Shows so many world premiers no other Award Show shows. In short, this Award Show is like no other Award Show.
Getting nominated is something money cannot buy. But: The non-nominated can buy a nomination on site. Moreover, someone will win an artist contract with TOTAL TERROR MUSIC... And then we hit Stall 6 for the after party «Schwing das Tanzbein».
Credits