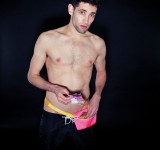 permitted from age 18 only

Daniel is a sex worker. In his solo-performance «Traumboy» he reports his experience as a prostitute. It's shameless, honest and interactive. He recounts why he started this kind of work, he describes his clients and their desires. The audience sees a young man who enjoys being a prostitute. The only problem is: the stigma. In his private life he's not told anybody about his job. Having sex with strangers for money still is a taboo.
«Traumboy» questions the double standards of a thorougly capitalised and oversexualised society. The body of the performer becomes the projection surface for fears, fantasies and contradictions. He takes on the different roles he plays for his customers – or for the spectators?
In this self-staging with a double bottom the audience is called upon to question its own sexual values, and for each to introspect the sexual being s/he thinks s/he is. Are their boundaries really where they think they are?
Credits