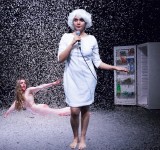 Nora oder ein Altenheim
Kandathil/Machaz (Follow Us)
free entrance / reservation recommended due to popular demand: kasse@gessnerallee.ch


Follow Us transports Henrik Ibsen's best-known female figure to the present and situates her – in line with the demographics of our times – in a senior citizen nursing home.

As in Nora's dollhouse, there is no shortage of rigid structures and guardianship, but with the motto «nothing to lose – nothing to expect» some leeway opens up: Freed from norms and obligations, is it possible here to finally live out what one always wanted to do? Does true personal reality only prevail when the word «future» has disappeared from the individual's vocabulary? In between pizza smell and refrigerator, a cozy fireplace and icy driving snow, the public is confronted with a wide range of fantasies about a possible future for all of us: the senior citizen nursing home.

Annina Machaz and Mira Kandathil/Follow Us met while studying acting in Bern. With their first joint performance about the icons Marilyn Monroe and Amy Winehouse, they won the Premio Nachwuchspreis [Young Talent Award] and toured with the piece throughout Switzerland. Their second piece Ask the Oracle premiered at the Gessnerallee Zürich at the beginning of 2018. Both are performers, directors, and authors of their works. In addition to their appearances in theater productions, they are also known for their actions on social media, e.g., using the hashtag #WirSindBesserAlsCastorf.
Credits
→ In German and English → Duration: 70 minutes