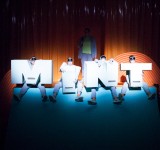 Die grosse M.I.N.T.-Show
hannsjana
free entrance / reservation recommended due to popular demand: kasse@gessnerallee.ch


In a performative laboratory that is simultaneously a comedy-, talk- and game-show, hannsjana confronts the exclusion mechanisms of scientific and academic disciplines.
Compared to men, why do fewer women study computer science? What stereotypical and sexist views underlie the labeling of so-called «soft» and «hard» fields? The performers calculate the course of the evening with a discussion about curves, demonstrate the origin of the universe using their own physical model, and let earthworms and amoebas discuss aspects of biology. As scholarly, scientific spectacle of empowerment and exchange, The Great M.I.N.T. Show makes threshold fears start to melt and takes expert knowledge back down to the terra firma of hard facts.
As the artist collective hannsjana, Laura Besch, Alice Escher, Jule Gorke, Lotte Schüßler, Katharina Siemann, and Marie Weich have been working together on performances and audio walks since 2011. In their work they break with existing assumptions and engage in a humorous, poetic, musical, and scholarly/scientific way of dealing with places and topics, so that these can be experienced by and understandable to themselves and others. Locations and events where they have performed include, e.g., the Sophiensæle in Berlin, Nationaltheater Mannheim, Kunstfest Weimar, theater thikwa, and Museum for Communication Berlin.
Credits
→ In German → Duration: approx. 90 minutes