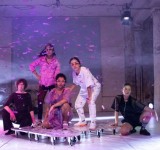 Sweat
/ A Performance in Twelve (Power)-Acts
Riebensahm/Ahmad Haschemi/Hourmazdi/Christians/Schwenk
free entrance / reservation recommended due to popular demand: kasse@gessnerallee.ch


Cheering and sweating, the performers develop an intersectional-feminist twelve-excercise event from practices in which they feel like champions. Between dance and empathy, solidarity and compliments, they pay tribute to their herox. This sports event takes its course without competitive pressure, taking instead a critical look at the winners' podium. A moving performance in 12 acts that makes you sweat.
Nadiah Riebensahm works academically and scenically with decolonial and postcolonial theories and strategies. Golschan Ahmad Haschemi is a cultural scientist, consultant for anti-racist and anti-semitism-critical education, and a freelance artist in various collectives. Banafshe Hourmazdi is a performer in theatre and life and an actress in film and television. Marja Christians works power-critically on and behind the stage, among others with: Isabel Schwenk, who works as a freelance performer and theatre educator.
Credits
→ In German → Duration: 100 minutes