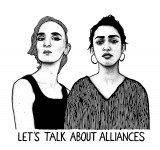 Let's talk about Alliances
Workshop von und mit Arpana Aischa Berndt und Mine Wenzel
free entrance / reservation recommended due to popular demand: kasse@gessnerallee.ch


The Let's Talk about Alliances workshop offers participants the opportunity to explore and discuss the issue of alliances between people who are affected by different forms of discrimination. What role does intersectionality play in everyday life when there is critical awareness of discrimination? What alliances are possible? What separations are necessary? How do we actually imagine the future and what do we need to achieve this vision?
A respectful and non-discriminatory approach is generally fundamental to our principles at Gessnerallee, however, it is especially important in this workshop. Therefore, as organizers, we reserve the right to enforce our house rules and deny entry to the event to or exclude persons who have been acknowledged for racist, nationalist, anti-Semitic, anti-trans*, sexist, or any other inhuman statements, manifestations, and actions.
Mine Wenzel (trans*non-binary/endo/white) is DJ, musician, and trans*activist anar*chic. She produces the trans*ginger Teapot Cast, gives lectures and workshops in the sense of the critique of power and anti-discrimination issues and is grass-rooted via various social media and analogue networks to undermine the «cistem» [system].
Arpana Aischa Berndt (cis/female/endo/PoC) is author and journalist and trainer in anti-racism. She publishes short stories, articles, and podcasts online, in magazines, and in anthologies. She gives writing workshops in the sense of the critique of power, allyship, and anti-racism.
→ In German → A vegan snack will be provided after the workshop. We recommend combining the workshop with the SWEAT performance at 08:00 PM.